Stop Playing Roulette with Your Advertising Budget
October 06,2016
Roulette is a game of luck more than skill. You take your chances predicting where the wheel will eventually stop in the hopes of doubling your money or winning it big. Sometimes you guess right, sometimes you don't, but the odds are never in your favor. When it comes to smart marketing, the last thing you ever want to do is to take a chance, especially with a given budget.
In roulette, you have different probabilities and outcomes on where to stack your chips, which is exactly the same concept as advertising. In advertising, you take calculated risks, stacking your chips through a variety of marketing channels. Whether it's Google AdWords, LinkedIn Ads or Facebook Ads, you always want to be one step ahead of the game. So, which channels of advertising should you focus on? Each advertising platform varies in terms of audience segmentation, demographics, and reach. You can always experiment with different ads on different channels and see what works best.
If you're looking to grow your Salesforce lead generation database, you'll want to invest a good portion of your advertising budget on Google AdWords. You can A/B Test and experiment with different ads either on the Search Network or the Display Network, with the latter reaching targeted websites and relevant blogs. Make sure you do your keyword research beforehand, so you understand your competition and what people are searching for.
You might also want to consider Facebook and LinkedIn Ads as part of your strategy. LinkedIn Ads are ideal to reach more targeted prospects based on specific criteria, such as Job title, Company Industry, Company Size and Member Groups. LinkedIn Ads allow you to create over 100 ad variations, which you can use to perform A/B Testing on. The drawback to using LinkedIn Ads is that they can be quite pricey. The minimum CPC begins at $2 with a minimum $10 daily budget. A good qualified Salesforce lead, however, could be worth your entire investment.
Over 900 million people use Facebook on daily basis, including your targeted audience. The great thing about Facebook is that you can set your own budget limit and there is no minimum CPC. You can promote an app download or boost an important post in which you can reach a larger network of potential prospects. You can even promote brand awareness through CPM.
Let's take a closer look at how you can set up ads on all these various advertising channels.
Facebook
Setting up an advertising campaign on Facebook is very simple. You can promote an ad according to very specific criteria to narrow down the funnel and target the most qualified leads. Here's how it works:
Go to the Facebook business page and click Create Advert.
Begin by defining your Objective, which could be anything from Lead Generation to Brand Awareness or Clicks to Website. We'll choose Lead Generation for this example.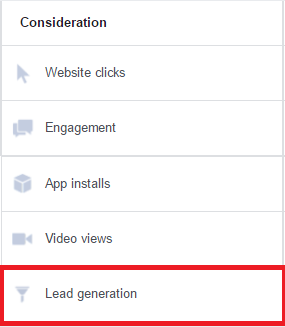 Once you have a clear defined goal of your Objective, you are now ready to filter your ad through audience segmentation. Go to the Ad set and click on Audience. Fill out your parameters by Location, in which you can get extremely specific to your country, state, city and region.
You can then segment your targeted audience by demographics, interests or behaviors to ensure that your ad campaign is going in the right direction. This is how you know you're not just placing your chips all over the roulette table (Facebook) and spinning the wheel (advertising budget) blindly. Set your Budget & Schedule accordingly and you're all set to go. Don't forget to measure your results with Insights, which you can find just above your cover image on your business page.
LinkedIn
LinkedIn is a bit different. You might not have the same audience as Facebook in terms of sheer volume, but you most certainly have the right audience, that's searching for your services. Here's how to set up a LinkedIn Ad and get the most value out of your advertising budget.
Click on Business Services → Advertise on the top right-hand side of the page
You will then be directed to the Campaign Manager. Click on the Text Ads option.
Click on the Audience option after you have finished creating your ad and begin segmenting your audience by your preferred criteria.
Your estimated target audience will change depending on selected criteria. You can play around with different fields and see which are bringing you the best results.

Google AdWords
The Internet is an extremely competitive and limited space in which every single business fights to be seen. If you don't show up within the first few search results, you simply do not exist in the eyes of your potential customers. And although you cannot get that coveted #1 spot (Google algorithms change all the time), you can at least ensure that your message is reaching your audience.
We won't get too deep into the inner detailing of how AdWords works because that's a separate post altogether. Instead, we're going to talk about a vital tool that will help you segment your targeted market. This magical tool is called Keyword Planner.
Here's how it works
Go to Tools → Keyword Planner.

And now begins the fun and adventurous process of filtering. This is where you can do many invaluable things to help drive more qualified leads and even spy on your competitors. You can enter their home page and see a list of keywords that they are bidding on, so make sure to take notes here.
Start by entering as many relevant keywords to your product or services as possible. You can also enter your competition by website name and see which keywords they are bidding on to give you the upper hand in the game. After you finish entering your keywords, you can get more specific with locations. You can enter a country, state or city and even a radius to target the right audience.
In AdWords, you're constantly bidding on keywords that are most relevant to your business and services. A general rule is not to group all the keywords into one Ad group. Instead, create several Ad groups and segment the keywords by product or description. Aim for 20 keywords per group.
You will also want to incorporate Google Analytics to measure the success of each ad campaign. It's very simple to integrate. Sign into Google Analytics and go to the
Admin → Property → Property Linking → AdWords Linking and link your accounts together.
You can track and measure the performance of each AdWords campaign through Google Analytics.
Here's how to do so:
Log in to your Google Analytics account. Go to Acquisition → AdWords → Campaigns
Closing Thoughts
You now have all the relevant keywords to bid on, you know what your competitors are bidding on and the analytics tools to show you the results. Once you understand how to leverage your marketing segmentation and metrics together you'll be able to quickly determine which channels are working and focus more of your advertising budget on them. The data then becomes clearer and your marketing efforts become even more effective. You won't have to spin that advertising wheel anymore!